The Government has moved to ban two more substances found in samples of K2 synthetic cannabis, which has been linked to serious medical conditions including psychotic episodes.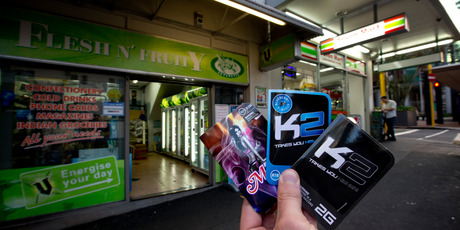 Synthetic cannabis is being sold at dairies and stores throughout New Zealand. Photo / Dean Purcell
Associate Health Minister Peter Dunne today said a Temporary Class Drug Notice banning two new substances would come into effect on May 9.
It brings the number of substances banned under temporary notices to 35, which has resulted in more than 50 products being taken off the market.
Mr Dunne conceded the Government still had more to do to properly address the sale of synthetic cannabis.
"This is another blow to the industry and one of many we have delivered – but I fully acknowledge it is more of the cat-and-mouse game until we can deliver the killer punch in August when the Psychoactive Substances Bill will become law," Mr Dunne said.
Submissions on the legislation close tomorrow and a select committee is due to report to Parliament in June.
"What this ban will do in the meantime is force more of the K2 product off the shelves and that is the best outcome we can have at this point with a product that is clearly bad for people," Mr Dunne said.
He said the industry and the outlets that sold the drugs had "no integrity whatsoever".
"There is no goodwill and there is no decency in this industry, and that is why we are legislating. They prove day-in and day-out that they cannot be trusted."
The two new substances being banned are BB-22 and 5F-AKB48, both of which have been found in K2 products.
From next Thursday it will be illegal to import, manufacture, sell or supply the substances, with penalties of up to eight years imprisonment.
"The Health Ministry considers that these particular substances pose a risk at least comparable to other already banned synthetic cannabis substances, therefore I have made the decision that it needs to be banned," Mr Dunne said.